Initiatives to Enhance Participation of Women Associations in Peacebuilding in Adamawa State
The Project "Initiatives to enhance participation of women associations in peacebuilding in Adamawa State" is approximately a five (5) months intervention implemented by Global Peace Development with support from EU/British Council Managing Conflict in Nigeria.
Specifically, the project targeted 10 women associations located in 10 wards of Lamurde and Guyuk LGA to foster peace, security, and stability through inclusive women participation in decision making and peace building platforms to stem all forms of violence as well as mitigate extremist infiltration in the project impact area.
Significantly, the project supported the 10 women associations to implement 15 peace building initiatives tailored to address drug abuse; conflict and violence; radicalization and violent extremism; inter-ethnic conflict; and exclusion of women and girls from decision making and peace building platforms. The initiatives were implemented utilizing training workshop for women leaders, town hall meetings, community outreach, dialogue sessions, women summit, unity walk, skill acquisition on multi-media content development, youth forum, and sensitization workshop that were facilitated inclusively to reach variety of stakeholder's resident in the project impact areas.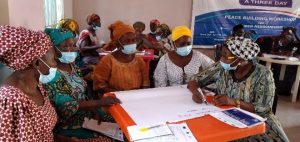 Through the implemented project activities, voice and visibility of women and girls in project impact areas has increased, particularly in Ngbebogun Community of Lamurde LGA where a woman councilor was elected through strong inspiration and motivation by the project.
"My name is Agnes Christopher. I had the intention to contest for councillorship of my ward, but I was lacking
the courage to vile for the post considering the cultural context but as we commenced the training, the topics
particularly Role of Women in Peace building motivated and encouraged me to stand strong to vile for the position.
I am very happy that without this intervention I wouldn't have contested not to talk of winning the election" 
- Mrs Agnes Christopher, Chairperson of Nyivongong Women Association, Ngbebogun Community
Interestedly, through the peace building initiatives facilitated in the project communities, barriers to culture of silence and exclusion of women in decision making and peacebuilding was abdicated
"I want to thank you all for coming to speak to us about the need for women in leadership, decision making, and 
peacebuilding. It was just recently, in the council meeting that we deliberated on the need to give two slots to
women for community leadership. Listening to all that you have said today and the points you raised, I assure you
that I will go back and speak with district head and discuss further on how we can actualize this. The reason for 
not allowing these positions to women is that culture did not permit it. We grew up to see things this way right 
from the time of our forefather, but we can't deny that times have changed and we need to go with the tides. This 
is the kind of encouragement to make this happen" - The Wakil of Lamurde, Istifanu Nabwamwa


This intervention is timely as I have been having the desire to contest for mai anguwan (Community Leader) in
our community but I didn't have the courage. But being here today in the midst of my fellow women and hearing 
the Wakili assure us of inclusion and a chance to contest like our male counterparts, I have summoned the courage
to contest. In fact, I want to beg him to pass my message to the Village Head and tell I will be contesting to 
the Mai Anguwan by God's Grace" -Ruth Kenan of Lamurde Ward
More so, the women peace building initiatives established 3 peace clubs in schools to support mitigation of radicalization, gangsters and other forms of violence in Guyuk LGA
Commendably, the initiatives implemented in Dumna ward of Guyuk LGA strengthened relationship between the youths of Lugunda and Waja Ethnic Nationality of Dumna ward who were constructively engaged in a dialogue

We are grateful for the intervention, because before now, the relationship between us was not cordial and there 
was distorted communication, but having participated in this 2days dialogue, we have realized that every conflict 
is resolvable, and the gain of peace can't be overlooked.  The meeting enabled us to shake hands and dine together 
which was not the case before now"