To achieve sustainable peace in Nasarawa State and its environs, ActionAid Nigeria, Global Peace Development and Beacon Youth Initiative conducted Bi-Annual Local Conflict Management Alliance (LOCMA) meeting with focus on ensuring safe and healthy environment devoid of crisis, discuss conflict and security issues for early warning and early response and to provide a platform for strengthening synergy and coordination.
Conflict management Alliance fast track conflict prevention and response through intelligence gathering referral through the use of tracking which amplify early warning and response mechanism .The conflict management alliance ensure inclusivity of relevant and vulnerable stakeholder group through constructive engagement between groups on the platform and the larger society to ensure accountability and feedback. Government and community leaders are beginning to recognize that they also must accept responsibility for keeping their neighbourhoods safe. Communities must take a unified stand against disorder, extremism, conflict and must make a commitment to violence and intervention activities. Security agencies and communities must help build stronger, more self-sufficient communities in which violence and disorder will not thrive. Local and Community response to action requires active participation of local communities, Women leaders, Community Based Organizations, residents, churches, mosques, schools etc. All who share a concern for the welfare of the neighbourhood should bear responsibility for safeguarding community welfare and safety. The LOCMA meeting discussed conflict and security issues for early warning and early response and provided a platform for strengthening synergy and coordination. Being the first meeting conducted since after the inauguration of the committee.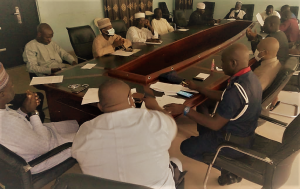 The meeting was conducted in six intervention Local Government Area of the State which include Toto, Akwanga, Nasarawa, Eggon, Lafia and Obi. Moreover, the police, DSS, representative from traditional institutions and CART explained the security situation in the state and suggested ways to avert crimes and consolidation of efforts to respond to any crime or social vices. The committee affirmed its action that it came at the appropriate time considering the rise of kidnapping, domestic and Gender Based Violence.