COMMUNITY DIALOGUE FOR FACILITATORS
The System and Structure Strengthening Approach against Radicalization to Violent Extremism (SARVE) II Project in Nasarawa State is aimed at building community resilience against violent extremism through community empowerment, creation of enabling environment and strengthening community structures towards preventing violent extremism in Nasarawa State. This second round of the project is been implemented in twelve communities across six Local Government Areas (LGAs) of Nasarawa State. The target beneficiaries of the project are the youths (who are mostly soft target for recruitment into extremist groups), women (who are the most affected in the event of violent conflicts), Community leaders (who are expected to be resilient against the penetration of their communities by suspected extremist groups) and duty bearers (who's duty is to create enabling environment to prevent violent extremism) both at the local and state level.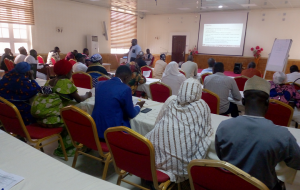 To achieve the SARVE II project objective, ActionAid Nigeria (AAN), Global Peace Development (GPD) and Beacon Youth Initiative conducted a one day Community Facilitators Dialogue meeting The Meeting which held on 16th July, 2020 utilized an interactive group discussions and presentations to engage community facilitators on the role of community volunteerism in preventing violent extremism and responding to early warning signals. Importantly, the meeting provided opportunity to learn from various presentations to better equip facilitators with all the necessary skills, Knowledge and understanding on their role and functions in the community to curb Violence Extremisms through synergizing with all the available structures like Community Action and Response Team (CART), Security Agencies and other community stakeholders.
Objectives
To improve social relations among facilitators.
To equip facilitators with knowledge on effective communication.
To strengthen coordination and referral mechanism in PVE.
Reinforce and stimulate community Facilitators interest and mobilization.
Mainstream COVID-19 knowledge to facilitators as influencers for community awareness creation and action to prevent the spread.