ActionAid Nigeria (AAN) in partnership with Global Peace Development (GPD) and Beacon Youth Initiative (BYI) with funding from Global Community Engagement and Resilience Fund (GCERF) Implementing System and Structure Strengthening Approach Against Radicalization to Violet Extremism (SARVE II) in six Local Government Areas of Nasarawa State including Lafia, Nasarawa Eggon, Akwanga, Toto, Nasarawa and Obi aimed at decreasing the vulnerability of at-risk young men and women to violent extremism, strengthen community systems and structures to address violent extremism and create enabling environment for preventing violent extremism carried out door-to-door sensitization, campaign and advocacy on COVID-19 to prevent the spread of Coronavirus in the State. The Resilience Programme and Consortium Coordinator Mr Anicetus Atakpu led the team to the State Commissioner of Police- Mr. Bola Emmanuel Longe, Radio Nigeria Precious FM- General Manager Abdullahi Musa Mbalor, Executive Secretary Lafia LGC- Honourable Abubakar Mohammed Lamino and General Manager Option FM- Mr Boniface to:
Identify gaps and areas of support required
Get a glimpse of the Police preparedness in handling COVID-19 related security challenge
Ascertain current sensitization efforts
Inform the Local Government about ActionAid Nigeria intended community sensitization.
Ascertain current actions taken to sensitize the grassroots and possible gabs.
Responding, the State Commissioner, of Police stated that a good number of Police globally lost their lives to COVID-19 Pandemic, according to him we are leaving no stones unturned to ensure police officers are properly sensitized and protected during this period. Although the Governor Authorized the total lockdown of Karu LGC and Partial lockdown in other LGC in the State, but that of Karu has been a challenge due to the unplanned nature of the area. We are intensifying efforts to ensure compliance. Radio Nigeria Precious FM on the other hand stated that they are currently airing 21 jingles in different languages in regard to COVID-19 though most people didn't believe the virus is real especially because no case was recorded in the State as at the time of this report. We are happy to partner with AAN, GPD and BYI to demystify the myths at community level as we work together to mainstream COVID-19 into most of our programme.
The Local Government Chairman further noted that, from our assessment we noticed motor parks are still crowded, hence we have created 3 more additional parks to enhance social distancing guidelines. However, a lot still needs to be done and we can't do it alone especially reaching people at the grassroots and that is where organization like AAN, GPD AND BYI comes in, to complement our efforts. We are open to suggestions and support on how we can effectively safeguard our people and to defeat the virus.
To mitigate the challenge of hand washing, ActionAid team fabricated a hand washing system utilizing local products in the various communities using (sticks and water can) and demonstrated the procedures to Community Action Response Team (CART) and Community Facilitators and asked that the same process be demonstrated to the members of their communities and to replicate the makeshift local tap in their houses to promote hand washing among their family members.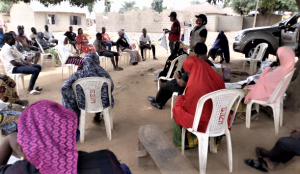 Intervention Area and Beneficiaries
Over 35,000 poor households across 12 communities, namely Alizaga, Kagbu, Azuba Bashayi, BAD, Tudun-Adabu, Agyaragu, Ningo, Angwan Zaria, Toto, Gadabuke, Kurudu, and Laminga in Nasarawa State, Nigeria.
Intervention Description
The intervention titled "Door-To-Door Community Sensitization on COVID-19" was developed in line with National and State level strategies by ActionAID Nigeria in collaboration with Global Peace Development to conduct COVID-19 awareness education and to empower grassroot structures in poor and hard-to-reach communities for COVID-19 prevention, response, and referral. The intervention is currently promoting the World Health Organization (WHO) and the Nigeria Center for Disease Control's (NCDC) social distancing and personal hygiene guidelines and recommendation to slow the spread of the Coronavirus. 14 volunteers were selected, trained and empowered with mega phones for continuous awareness on COVID-19, and COVID-19 information materials (including posters and handbills in English and local language), personal hygiene kits supplies for mass dissemination in the intervention's 12 target communities.