The participants gathered at the Land Office in Owanta where the team explained the purpose of the activity and how they intended to complete the task. The Community Association members then led the team to the worse hit areas where video documentaries of the increasing extent of the damage done to properties along the gully line were made. Affected persons were also interviewed.
Essentially, on investigation, the team discovered that in Owanta community more houses around the gully erosion have been destroyed and the occupants have evacuated.
Mr. Okoye Sunday; one of the affected persons, stated that his properties is being destroyed but stated that he, like a few others, has stayed back while others evacuated the area due to his lack of funds or where to go. He appealed to NEWMAP and the World Bank for construction to start to stabilize the gully.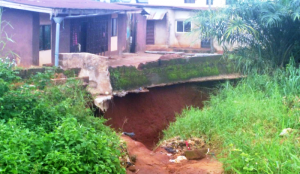 Chief Samson Osondu; member of the Site Committee (SC) spoke on behalf of his brother, Richard Osondu who is also affected by the flood. He stated that heavy currents of flood water coming from the Power Line area located at Oweke road damaged properties and also drowned one Miss Chinyere in a community constructed drainage near Mr. Richard Osondu's property. Still speaking, he stated that a total of four persons (*unidentified*) were killed as a result of the flood (including a little boy in Ute Quarters). According to him, some others sustained injuries at Abraka road but were quickly attended to in the hospital upon the early response of the Local Government Chairman and the Commissioner for Environment who visited as at the time the incident occurred.